Digital Media Career Academy
CoHort Progression Model

Within the confines of the DMCA, students are required to take certain courses each year. These classes are smaller in class-size and contain only Academy students within the same grade level. Through this model Academy students are able to truly get to know classmates and develop interpersonal skills which further prepare them for the diversity they will face in life within the real world.


Required Courses
* denotes a class that can be taken at the honors or academic level
** denotes a class that is ONLY offered at the honors level
​+ denotes a class that may be replace by a course of higher rigor (AP course or IB course)
---
Meet the DMCA Rockstar Faculty
MRs. Kost

English 9




Mrs. Youngbluth

Marketing

​




Mrs. Johnston

Visual Arts 1 - Beginner

A rare breed - Raleigh native! Before landing at Millbrook, she taught in high school and middle school until moving to VA to pursue a Master's degree. While at VCU she was a project manager on an arts assessment grant based in Doha, Qatar, where she still teaches in the summer. Ms. Johnston's favorite media are watercolor, batik and mixed media. She loves to travel, enjoys reggae, cupcakes, and sports (GO PACK! and GO RAMS!) and is very excited to be part of the DMCA faculty!
MRs. Romano

Digital Media 1

I have spent twenty-five years as the LEAD LEARNER in my classroom and I'm still trying to get it right. I LOVE teaching in the DMCA because the students are really creative, self-motivated, cool, interesting and just generally fun to work with. When I'm not teaching I enjoy paying for overpriced popcorn at the movies, running up overdue book fines at the library, or maxing out my credit cards to travel to exotic locales. My favorite colors are Wolfpack RED (because I graduated from that fine institution), Navy BLUE (because I served in the Navy after college, despite the fact that I have been known to get pretty seasick on boats), and WHITE (because who doesn't like white?). I coach JV tennis at MHS, though my backhand is dodgy. I also run (or help run) the Film club, the Sports Broadcasting club, and the Technology Student Association club. (Apparently, I never met a club I didn't like...) And finally, my most HAPPY place is looking at salt water that has a beach on it, with my cellphone powered off...

Mrs. Cortright

English 10

I have been teaching for ten years. I spent seven years teaching in Alexandria, Virginia and I am now in my 3rd year at Millbrook. I have a son who is one and two dogs. My husband is also a teacher here at Millbrook. I love working with the DMCA because I get to see students think outside of the box and create amazing projects!

Mr. Brown

American History 1



Mr. Jonathan Davis


Advanced Digital Media

​

Digital Media Production Company

MS. April L. Smith

DMCA Coordinator
​Academy Internship

Ms. Smith has a lifelong love of all things that motivate people to respond to their sensorial awareness of products, lifestyles, commitments to causes, and the elevation of their purpose through entrepreneurship, product creation, motivational speaking, life coaching and representation of lifestyle through endorsements, and licensing partnerships. Matching students to their purpose through personal branding (exploration), and strategic (path development) marketing is what makes Ms. Smith an innovative teacher.


Next Rockstar

Our Academy is always growing. We are always looking for the next course that will further complement our mission of creating the leaders of tomorrow.
Powered by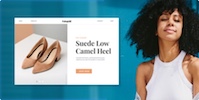 Create your own unique website with customizable templates.